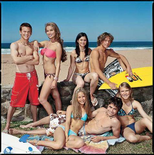 The first series consisted of twenty-six episodes. It starred
Adam Saunders
as Heath, the relaxed joker who struggles with school;
Tahyna Tozzi
as Perri, resident glamour queen from the
Gold Coast
;
Sophie Luck
as Fly, the youngest from Perth; 
Kate Bell
as Bec, the local;
Khan Chittenden
as Edge, the aggressive and competitive teenager;
Chris Foy
as Matt, the generic 'smart guy' and
Mara Scherzinger
as Anna, a famous German Kiteboarder. At the end of the year, two of them (one girl and one boy) get a wild card spot on the pro-circuit tour. The first series was released on DVD in 4 volumes, though fans are strongly urging for a complete re-release featuring the entire season in one package as was later done with Series Two.
Sophie Luck
won the 2005
Australian Film Institute Award
for Best Young Actor for her role in the series. The winners for Series One were Fly and Edge.
Main Cast
Edit
Series One
Ad blocker interference detected!
Wikia is a free-to-use site that makes money from advertising. We have a modified experience for viewers using ad blockers

Wikia is not accessible if you've made further modifications. Remove the custom ad blocker rule(s) and the page will load as expected.