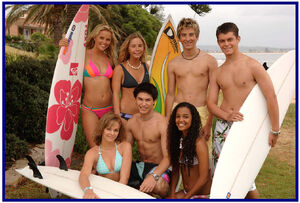 Plot Summary

Filming of a second series began in early January 2006 in Sydney, Australia, with a revised cast, which included Sophie Luck who was back as Fly, Adam saunders as Heath also from season 1 and Trent Dalzell as Corey, Ryan Corr as Eric, Lesley Mitchell as Brooke, Taryn Marler as Rachel, Gabrielle Scollay as Amy, and James Sorensen as Mike. It premiered on 28 June 2006. Sophie Luck, Adam Saunders, Kate Bell, Chris Foy, Tahyna Tozzi, Nadine Garner and Khan Chittenden have all reappeared in the second series in various episodes. The winners of Series Two were Brooke and Eric.
The complete second series was released on DVD in Australia on 1 October 2007
Main Cast
Edit
Series Two
Ad blocker interference detected!
Wikia is a free-to-use site that makes money from advertising. We have a modified experience for viewers using ad blockers

Wikia is not accessible if you've made further modifications. Remove the custom ad blocker rule(s) and the page will load as expected.