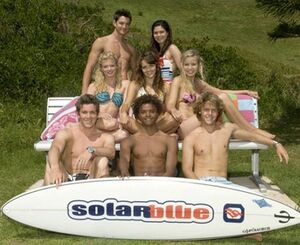 The third series began filming in October 2007. Kate Bell returns as Bec for series three and is joined by Craig Horner as Garry. The new Solar Blue pupils are Guy (Kain O'Keeffe), Charley (Lachlan Buchanan), Adam (Eka Darville), Bridget (Cariba Heine), Loren (Amy Beckwith) and Cassie (Rebecca Breeds). Series Three began screening on Rollercoaster on 3 April 2008.
The winners of Series Three Bridget and Adam, but Bridget decides to go to university instead of joining the Pro Circuit, so Loren gets the wild card after Cassie literally 'draws the short straw' (as they both have the same number of points in the final surf-off so they decide who gets the wild card this way). In the last episode, Simmo makes a surprise return as one of the three judges in what is described as 'one of the best finals Solar Blue has seen', saving the day as he pulls 'not a rabbit out of a hat, but an elephant', ensuring that the winners of the final surf-off still get a wild card invitation. As well in the episode a nipple slip by actor Cariba Heine can be witnessed in the back drop of a still, though the DVD verion has this still edited out.
Main Cast
Edit
Series Three
as well as a cast reunion in the season finale.
Episodes
1
2
3
4
5
6
7
8
9
10
11
12
13
14
15
16
17
18
19
20
21
22
23
24
25
26